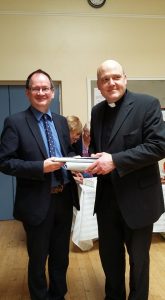 In June, St George's celebrated our Bicentenary. We also marked another significant anniversary as our Rector, Rev Brian Stewart celebrated the 25th anniversary of his ordination as a deacon.
He has spent nearly 22 years of those as our Rector and we give thanks for his ministry and friendship over these years and wish him many more.
Fr Brian was presented with a beautiful all-season stole and three books on liturgy on behalf of the Select Vestry and Parish.
Thank you Fr Brian for all that you do.